INDEX ADVERTSDATA
For temporary employment agencies

The key challenge for temporary agencies is to quickly and efficiently find assignments for their temps with the appropriate companies. index Advertsdata is the online-based business development tool for temporary employment, with which you can reduce periods of inactivity, identify new sources of customer potential and always keep a close eye on the market.
index Advertsdata provides you with all the relevant data and analyses of job advertisements from over 500 print and online media sources, as well as approximately 240,000 company websites from throughout Europe, including Belgium, Luxembourg, France, and the Netherlands, Denmark, Sweden and Norway, and Germany, Austria and Switzerland. With a total of over 38 million job advertisements recorded each year, we are the European market leader in job market analysis.
Our customers include HR businesses of different sizes and orientations – from the largest and most renowned companies to independent regional providers. We understand the needs and challenges of temporary employment and are in constant contact with a large number of companies in the industry throughout Europe.
Benefits for
temporary employment
agencies – in summary

TARGETED PROFILE CIRCULATION

Place candidates quickly and
efficiently
INDIVIDUAL
SEARCH OPTIONS

Targeted search with the help of
over 20 filters
TIME SAVING

The right job advertisement
with just one query
SCOPE OF INFORMATION

All the information you need
to establish direct contact
SIMPLE EXPORT

Directly export advertisements
and companies
INDIVIDUAL SUPPORT

Comprehensive support thanks to
personal points of contact
The job market is confusing and in a constant state of flux. Different job advertisements are published on each portal. Furthermore, some regional companies still only publish their job advertisements in newspapers and magazines, which means that most of them cannot be accessed on the Internet. index Advertsdata is the right tool for temporary employment agencies when it comes to searching the entire job market and finding the right job advertisements for your employees.
No other tool allows you to find such a comprehensive compilation of all job advertisements and structured data as you can with index Advertsdata. It enables you to access the job advertisements from online job boards, company websites and print media. To this end, we also scan job advertisements from newspapers so that you can also access them using our online tool.
At the same time, the handling of index Advertsdata is so simple and straightforward that your work becomes much more efficient. In order to place employees as quickly and effectively as possible, index Advertsdata offers you a variety of different functions, for example:
Extensive research options (e.g. by location, special qualifications and types of employment) so you can place your employees faster
Time saving thanks to the "Business Development Traffic Light": You will receive statistical information about which positions are most likely to be successful from a temporary employment perspective
All company contact data, such as point of contact with name, telephone number and e-mail, as well as the link to the company homepage
Precise company reports with overviews of the companies' advertising behaviour
In addition, you will find many other features that make placing employees in temporary employment more effective and efficient for you.
Wide range of search options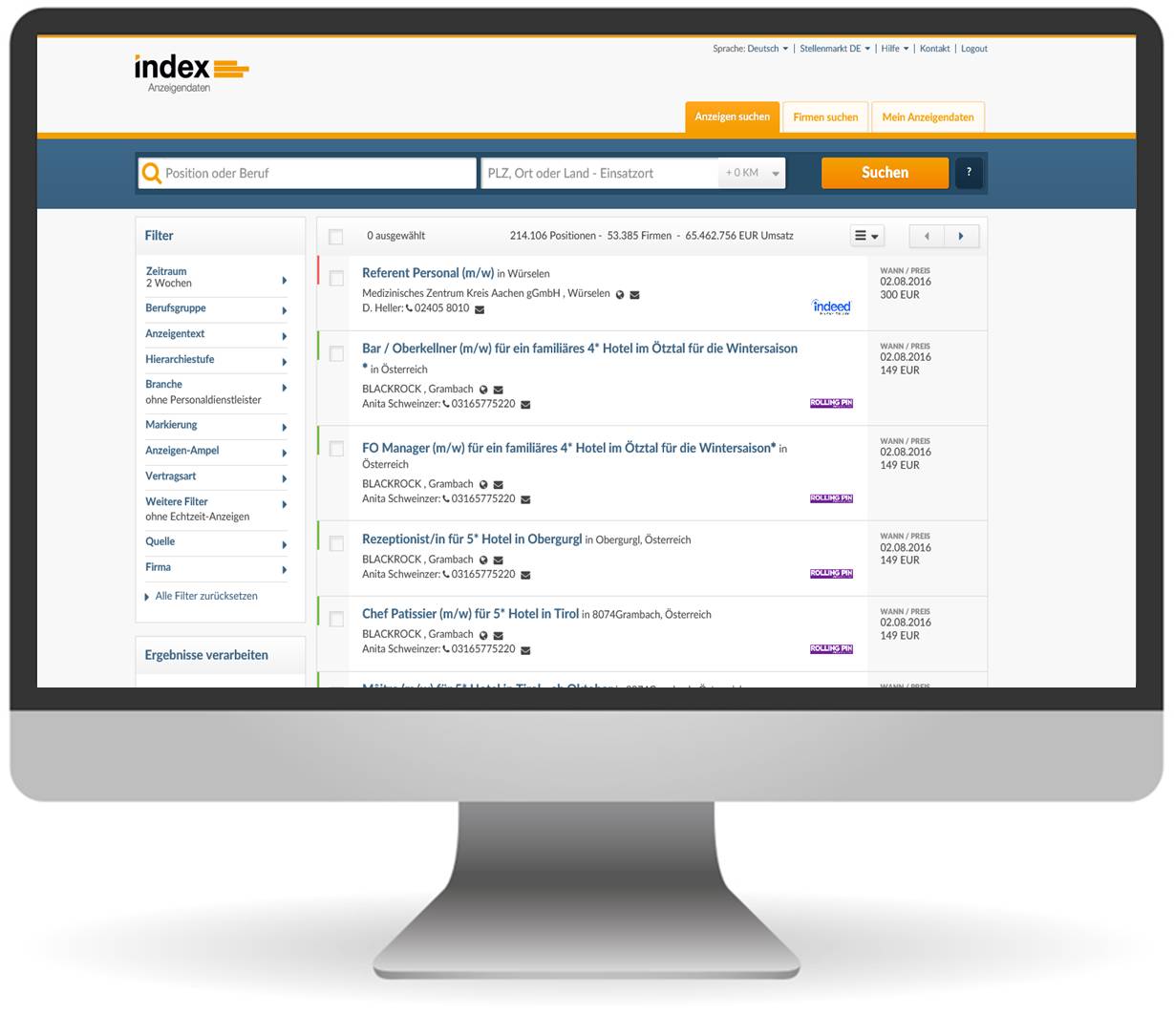 With index Advertsdata, you can search the job market individually, e.g. by region, professional group, industry, career level or contract type. Other options include gross ad sales, complete postcodes and usage locations including proximity search. Additional filtering options include full-time or part-time positions, publication date and specific sources (such as individual daily newspapers, online job boards or websites).
All sales-relevant information at a glance

You will receive everything you need for a successful approach from one source – e.g. Point of contact with name, telephone number and e-mail, presentation of the original advertisement and link to the company homepage. In addition, you will also find the presentation of the group structure for larger companies.
Business Intelligence – the simple way

index Advertsdata provides you with detailed statistics on developments in various industries, individual job profiles, regions and much more with just a few clicks.
The company and media reports provide you with further information on your target companies "at the click of a button". In the corresponding overviews, you will find all relevant information on the advertised positions and the media used in the last 12 months – the ideal preparation for your business development team, especially for on-site appointments.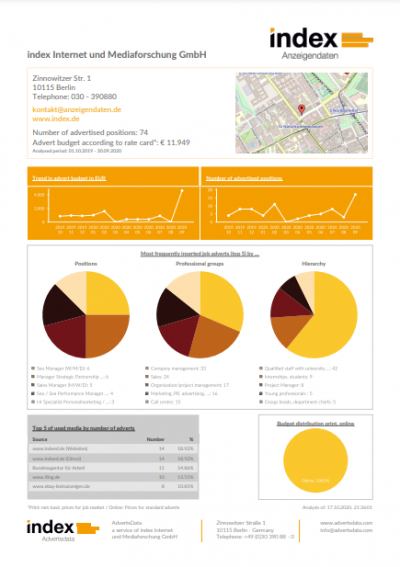 Automatic information – directly by e-mail

By activating job alerts, you have the option of getting important data automatically by e-mail every day or on certain weekdays. You can also receive specific information about advertisements placed by your existing or target customers.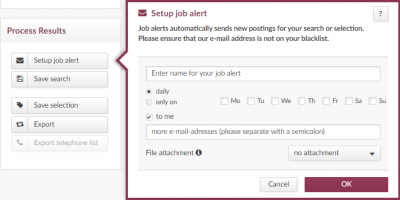 Data exports according to your needs

You can export all company data quickly and easily, and with just a few clicks you can individually determine which file formats you would like to receive and what information you would like to download. If required, individual interfaces directly to your CRM system are, of course, no problem at all.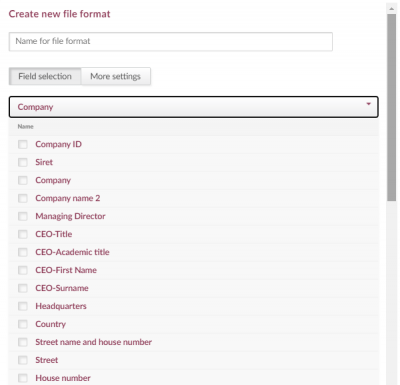 Giving the green light for your sales success

The Advertisement Traffic Light provides you with statistical information about which positions are difficult to fill to make the sales approach particularly promising. This allows you to focus on the leads that are more likely to need your help. Your business development will be faster, more efficient and therefore more cost-effective. You can also find this information at company level: Companies which, according to our database, seem promising to contact are highlighted in green.

index Advertsdata
Innovative solutions for temporary employment

1. Efficient and accurate placement

With index Advertsdata, you will receive the appropriate job advertisements for your employees – of course, with the contact details to contact the respective companies directly by e-mail or telephone. In this way, you can quickly find the right assignments for your employees and reduce (or avoid) periods of inactivity.
Instead of clicking through various job boards, you will find a collection of all job advertisements from online job boards, company websites and print media thanks to index Advertsdata. This is a major plus, especially in temporary employment, where the focus is on placing employees quickly.
2. Drive profile circulation

Do you have qualified specialists at your disposal, but there's still no suitable job posting for your employee? Instead of waiting even longer, you can take action yourself with index Advertsdata: Contact companies who are continually in need of personnel to offer them suitable temporary staff options.
With index Advertsdata, you can get important data that enables you to assess which companies offer the greatest potential for a successful
placement. On the basis of ad sales, for example, you can deduce which companies are willing to invest regularly in personnel recruitment.
3. Market transparency and competition analyses

In temporary employment, it is essential to be well-informed about the current job market. Which professional profiles are in particular demand in your region? What qualifications do companies currently value? These are just two of many other questions you can answer with index Advertsdata. You can then use your knowledge to acquire new customers and, for example, also apply it when circulating profiles.
In addition to your (potential) customers, index Advertsdata also allows you to keep an eye on your competitors in the temporary employment sector. At the same time, the tool helps you to recognise developments in the job market and trends in temporary employment at an early stage, thereby allowing you to adjust your planning accordingly.
THE COSTS
Every temporary employment agency has its own requirements. This is why index Advertsdata is geared to your needs when it comes to providing data. Pricing then depends on the scope of the information provided.
The costs can be calculated, for example, according to the relevant
for your individual business development needs.
Of course, you can request a free trial of index Advertsdata. Just ask for your personal online demo.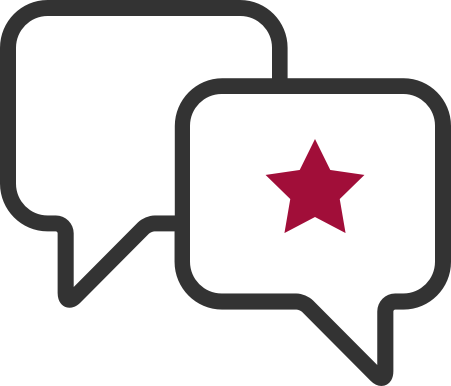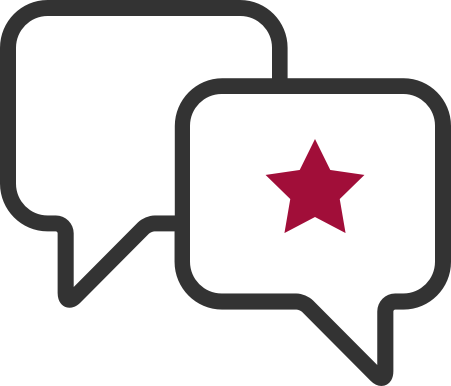 Please fill out the form if you wish to be contacted.
IMAGE SOURCE  Header: istockphoto.com / shironosov; Featured Image: index GmbH; Video: index GmbH