index Advertsdata
For new clients
and faster candidate placement

index Advertsdata has become an indispensable part of everyday working life for many recruiters across Europe. Irrespective of the size and focus of your HR consultancy, the knowledge you can get from index Advertsdata will give you the clear edge you need in the job market – whether you operate in the Benelux region or France, in Germany, Austria or Switzerland or in Scandinavia (Denmark, Sweden and Norway).
Our web-based platform is the ideal tool in HR consulting to acquire new customers, optimise sales processes and place candidates from your own pool faster and more efficiently. In addition, with index Advertsdata, you always have an overview of the current job market! You recognise market trends quickly and directly and can align your business strategy accordingly.
We collect and analyse over 38 million job advertisements from more than 500 print and online media sources, as well as approximately 240,000 company websites every year, making us the European market leader in job market evaluation. With your access to index Advertsdata, you can access job advertisements from online job boards, company websites, newspapers and magazines – all in just one system. This eliminates the need to search through individual sources.
At the same time, index Advertsdata makes it easy for you to search for placement opportunities for your candidates. Smart filtering options ensure that you can identify potential target companies much more quickly and accurately than would otherwise be possible with a simple web search. With index Advertsdata, imprecise and superficial online research is a thing of the past. No more searching, just finding – so you can use your time for more important activities.
Benefits for
HR consulting – in summary

index Advertsdata provides HR consultancies with well-thought-out, efficient solutions and relevant information so that they can operate more successfully on the market. The large number of features that index Advertsdata has to offer will help you do this. The most important functions for recruiters:
Filtering options for the job market, e.g. by industry, professional group and search terms in the advertisement text such as specific qualifications or technologies
Quickly establish contact thanks to company data (point of contact, e-mail, website, etc.)
Company reports: Tables and graphics on the advertising behaviour of companies
Info agents: Receive automatic notifications for all positions and companies relevant for you
An overview of
all functions
useful
to HR service
providers:

Wide range of search options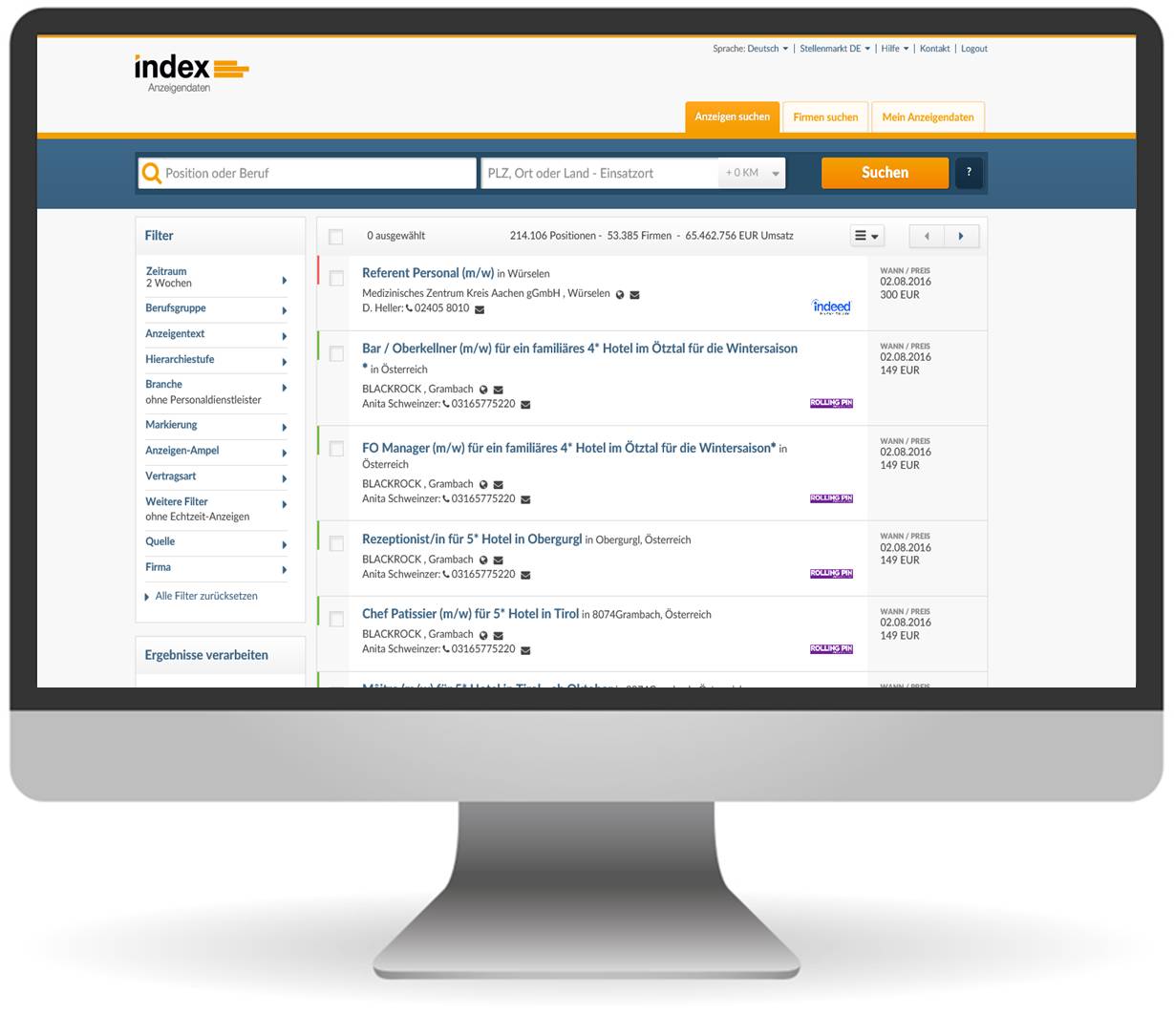 With index Advertsdata, you can search the job market individually, e.g. by region, professional group, industry, career level or contract type. Other options include gross ad sales, complete postcodes and usage locations including proximity search. Additional filtering options include full-time or part-time positions, publication date and specific sources (such as individual daily newspapers, online job boards or websites).
All sales-relevant information at a glance

You will receive everything you need for a successful approach from one source – e.g. Point of contact with name, telephone number and e-mail, presentation of the original advertisement and link to the company homepage. In addition, you will also find the presentation of the group structure for larger companies.
Business Intelligence – the simple way

index Advertsdata provides you with detailed statistics on developments in various industries, individual job profiles, regions and much more with just a few clicks.
The company and media reports provide you with further information on your target companies "at the click of a button". In the corresponding overviews, you will find all relevant information on the advertised positions and the media used in the last 12 months – the ideal preparation for your business development team, especially for on-site appointments.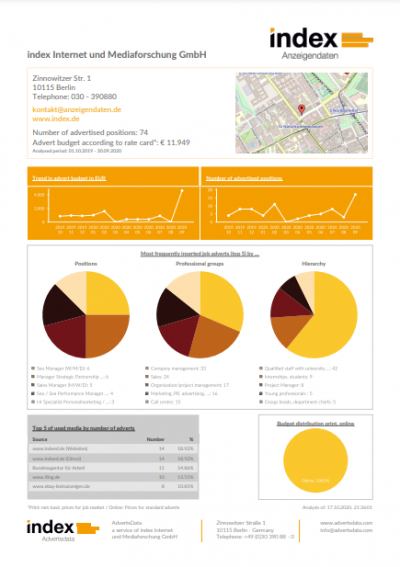 Automatic information – directly by e-mail

By activating job alerts, you have the option of getting important data automatically by e-mail every day or on certain weekdays. You can also receive specific information about advertisements placed by your existing or target customers.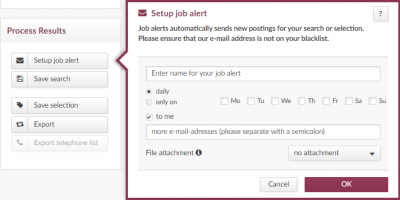 Data exports according to your needs

You can export all company data quickly and easily, and with just a few clicks you can individually determine which file formats you would like to receive and what information you would like to download. If required, individual interfaces directly to your CRM system are, of course, no problem at all.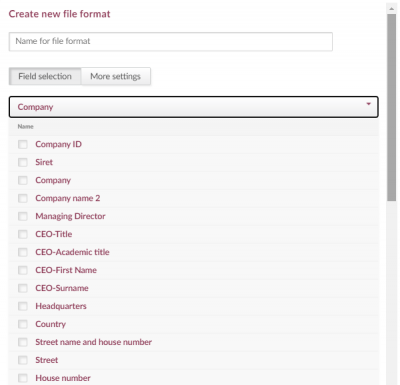 Giving the green light for your sales success

The Advertisement Traffic Light provides you with statistical information about which positions are difficult to fill to make the sales approach particularly promising. This allows you to focus on the leads that are more likely to need your help. Your business development will be faster, more efficient and therefore more cost-effective. You can also find this information at company level: Companies which, according to our database, seem promising to contact are highlighted in green.

Here's how index Advertsdata can help
you in HR consultancy

1. Driving new client acquisition

index Advertsdata helps you to identify potential new clients quickly and efficiently. With our data, you can maintain an overview of the job market as a whole, but you can also find out about individual companies and their search for personnel. Based on the number and frequency of job vacancies advertised, for example, you can identify which companies need your help. Ad sales are also helpful: they allow you to determine who is prepared to invest significant budgets in searching for personnel.
You can take action yourself and contact potential clients: for every job ad, the contact details of the company with the name of the contact, their telephone number and email are stored so that you can contact them directly. The company reports, from which you can take all the relevant information about company structure and ad placement, help you with new client acquisition, e.g. in arranging on-site appointments.
2. Placing your own candidates more quickly

If you have your own pool of candidates, our web-based platform helps you to make considerably more out of this asset. index Advertsdata makes it easy for you to find the right job vacancies and place your candidates significantly more efficiently and quickly. You can formulate your search for positions as specifically as you want and filter the results by period, professional group, career level or employment type, for example. In addition, you can use the company search to identify the companies that are looking precisely for the candidates in your database.
3. Always keeping an eye on the job market

As an HR consultant, you are a job market expert – and should therefore keep up-to-date with the current job market and any changes in it. There are fluctuations not only in the demand for specific professional groups, but also according to region. In order to achieve long-term success, it is important to align your portfolio continuously with the latest developments. index Advertsdata provides you with the market transparency you need.
Our data makes it possible for you to plan and take action to ensure your long-term success. Not only can you see which professional profiles are particularly sought-after in which regions and which qualifications are required, you also have the opportunity to keep an eye on clients and competitors. In addition, the job market data help you to make important strategic decisions. In an advisory role like yours in HR consultancy, it is precisely this kind of information that is crucial for long-term business success.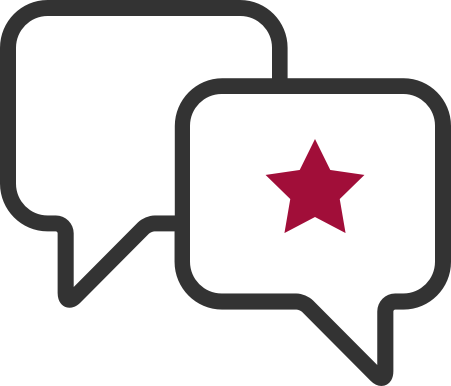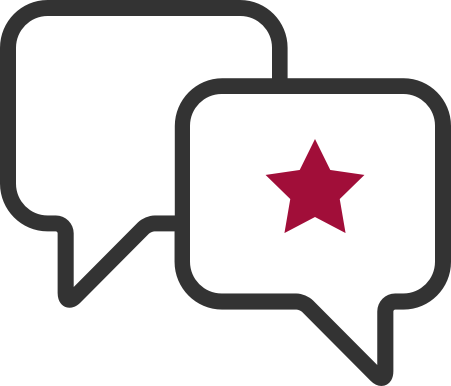 Please fill out the form if you wish to be contacted.
IMAGE SOURCE  Header: Unsplash.com / Elsa Noblet; Featured Image: index GmbH